Course ID: N/A
Name: RIBBON SKIRT
Hours:
Credits: N/A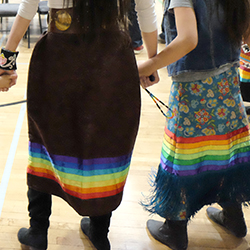 Have a hankering to wear a traditional Indigenous ribbon skirt to the next round dance or ceremony at Portage College? If so, then this is the class for you!
Learn about the tradition of ribbon skirts, their role in traditional ceremonies, the role of women in Indigenous culture and the connection to the teepee and to the circle.
This one-and-a-half-day workshop will cover basic sewing machine skills, fabrics and material. You will walk away wearing your own ribbon skirt.
Dates Please call for next date.
Times Saturday: 8:30 a.m. – 4:00 p.m.
Sunday: 9:00 a.m. – 1:00 p.m.
Cost $125 per person / $75 for materials
Contact Continuing Education for list of materials
Location Lac La Biche