In the spring of 2018, Portage College and the Alberta College of Art and Design (ACAD) solidified program transfer from the Native Arts and Culture (NAC) program into ACAD's Bachelor of Fine Arts (BFA) and Bachelor of Design programs. Now Portage College NAC Certificate and Diploma alumni students are enjoying a collaborative exchange exhibition with ACAD students.
The paired exchange exhibitions named Our Stories showcase the work of seven Indigenous artists from ACAD and 8 Indigenous artists from Portage College and highlights the importance of storytelling within their community. The contemporary Indigenous art and craft pieces complement each other as the artists re-tell the stories from their battles, life, and their own people's traditions.
ACAD's contribution was curated by Alyssa Duck Chief and includes work by BFA students in Drawing, Painting and Print Media.
The works from Portage College were produced and selected by students in the NAC Program along with NAC program instructors and Coordinator Ruby Sweetman.
This exchange exhibition was initiated as a way to celebrate the new relationship between schools.
Portage College is overwhelmed to have straight transfer opportunities for students into one of the top art and design college's in Canada.
"The transfer agreement with ACAD is monumental because it is the first time that traditional Indigenous arts has been recognized for credit at a non-Indigenous post-secondary fine arts institution." Said Donna Feledichuk, Dean of Faculty of Education & Cultural Arts at Portage College.
Portage College first year visual art courses also have university transfer to the University of Alberta, University of Calgary and University of Lethbridge.
ACAD wishes to thank Pierre Oberg and Ruby Sweetman at Portage College and Alyssa Duck Chief, who curated ACAD's contribution and offered the title for the exhibition.
Everyone is warmly invited to view Our Stories in Calgary and in Lac La Biche from November 8, 2019 to January 10, 2019. Our Stories in the Luke Lindoe Library at the Alberta College of Art & Design as well as Our Stories, Our Travel Forward (NEYUNA'N PUPA'MOTAO NAKA'MISEW) at the Native Arts and Culture Studio at Portage College.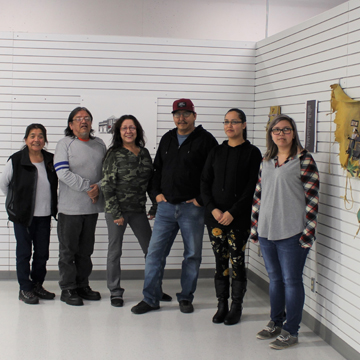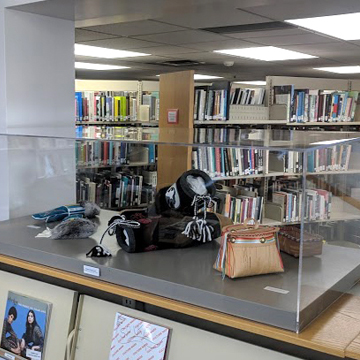 Participating artists:
Portage College
Gweneth Brown
Michael Jumbo
Myrtle Lewis
David Makokis
Christyann Ratcliffe
Rhianna Seeseequon
Danielle Didzena
Tessirae Sasakamoose
Alberta College of Art & Design
Danielle Bernard
Danielle Piper
Jasmine Piper
Renae Reinfort
Azby White Calf
Shelby Wolfe
Smith Wright
For more information about Portage College transfer agreements, please contact 1-855-623-5551 or info@portagecollege.ca.