Master Teaching Series
Learning Indigenous Ways of Teaching Through Art
June 10 - 14, 2019
Learn from a master artisan and educator how to teach traditional indigenous art from an authentic and culturally sensitive perspective. By participating as a student in a traditional Indigenous art class, you can watch and learn from the instructor as she models indigenous ways of teaching through storytelling and honouring the land. Portage College is one of only a handful of post-secondary institutions teaching traditional Indigenous art and the only one in North America to teach hide tanning. All courses start with the procurement of materials from nature, authentic treatment of those materials and a focus on quality craftsmanship.
Participants will make a birch basket (example of a decorated basket below) decorated in porcupine quills. Master artisan Ruby Sweetman will guide students through the crafting process while modelling and discussing authentic Indigenous teaching.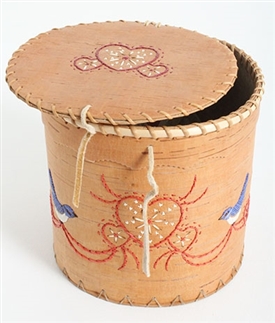 Workshop Cost - $695.00 per participant
Cost includes:
All materials and supplies
Travel to/from procurement site on day one
Lunch and refreshments daily
Tour of the Museum of Aboriginal Peoples' Art and Artifacts and Traditions Gallery
Optional evening programming including Hand Games and Medicinal Herb Walk
Workshop certificate and completion gift
Not Included:
Accommodations
Breakfast or Supper


For Accommodation Options click here.
Instructor Bio:
Ruby Sweetman
Ruby Sweetman is of mixed Cree ancestry and is passionate about sharing her knowledge of traditional Indigenous arts and culture. Sweetman has been teaching at Portage College over twenty years where she instructs in the Native Arts and Culture Program. Using both traditional and contemporary techniques, Sweetman teaches in variety of course areas including: sculpture using various media, traditional Indigenous footwear, nature craft and design, and decorative arts. Sweetman is proficient in traditional beadwork, sewing and design. Sweetman is also one of only a handful of instructors in Canada that still teaches the ancient art of Woodland Cree hide tanning. Sweetman studied under master hide tanning instructor Metis elder Elsie Quintal where she learned this celebrated and time honoured art form.

In addition, Ruby has her teaching certification from Portage College in the Field of Native Arts and Culture, and teaches in non-academic Indigenous community settings and at Traditional ceremonial events.

Sweetman's art work has been exhibited in museums and galleries in Canada and can be found in various private, corporate, and public collections including the Royal Museum, the Museum of Aboriginal Arts and Artifacts and the Lois Hole Hospital Art Collection. Sweetman is also a recipient of grants and awards from the Alberta Craft Council and the Alberta Foundation for the Arts.

For more information contact:
Donna Feledichuk 1-866-623-5551 ext. 5536
To register:
Contact the Continuing Education office at: 780-623-5631 or toll free at 1-888-745-0719.