Portage College President Nancy Broadbent joined AU President Dr. Neil Fassina in Athabasca Oct. 16, where the two signed a new Memorandum of Action (MOA) outlining the intention to work more closely together.
This new agreement will see the two institutions explore new degree pathway options, possible research collaborations, and sharing other expertise.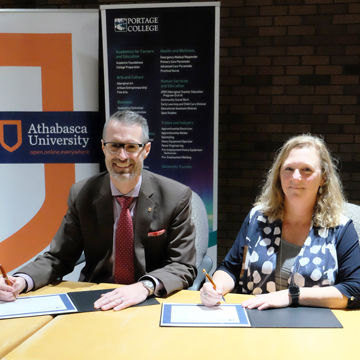 Athabasca University President Dr. Neil Fassina and Portage College President Nancy Broadbent signed a Memorandum of Action Oct. 16 to strengthen the partnership between the two institutions.

"While we've been partners for decades, this is about taking a purposeful strategic play to work together to create something. Further to just being transactional, we can create something that wouldn't otherwise exist," Fassina said.
"I see this as different because I see us trying to bring value to both organizations as we work through things. Being rural, and northern rural, we need to rely on each other. And I think we can set some examples for the (post-secondary) system about how to work, and how to make things happen together," Broadbent said.
Read full release from Athabasca University here: Athabasca University and Portage College to take action on collaboration.
Media Inquiries:
Jaime Davies, Corporate Communications Manager
780-623-5581 or email