Congratulations to Raven Cardinal, graduate of the Forest Technician program at Portage College (currently a student at NAIT) for being recognized by the Forest Products Association of Canada for a 2020 Award of Excellence.
When Raven Cardinal came through Portage College we only offered a one year certification in Forestry and now we offer the Natural Resources Technician (NRT) two year program.
"Portage College faculty have always encouraged our graduates to continue their studies beyond our doors and it's times like this that we're so proud to hear a graduate is excelling and being recognized in their educational journey," said Al Bertschi, Associate Dean at Portage College. "Portage College has many signed agreements with other post-secondary institutions that allow graduates to ladder into other institutions and we are happy to be a part of Raven's pathway to a higher education. Congratulation's Raven!"
To celebrate the 100th anniversary of national forest week, an on-site week was scheduled for the first year students of NRT to conduct field labs for students to work in the boreal forest where the college region is located.
Read about Raven and the other award recipients here: https://www.forestryforthefuture.ca/posts/forest-products-association-of-canada-awards-of-excellence-2020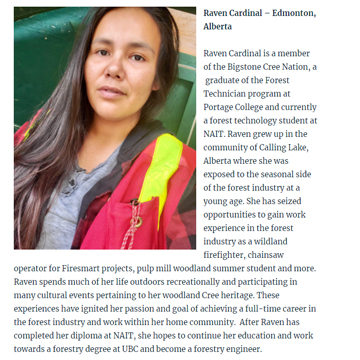 Image taken from the https://www.forestryforthefuture.ca/ website.
Media Inquiries:
Jaime Davies, Corporate Communications Manager
780-623-5581 or email