Portage College kicked off our 50th anniversary celebrations in style January 5-6 with the Voyageurs Men's Hockey Team Parents' Weekend Event.
Celebrations started Friday January 5th at the Lac La Biche campus with a pep rally, free hot dog lunch, and a floor hockey challenge with staff and students.
After the well-attended kickoff, the Voyageurs laced up their skates and kicked off the second half of their season with a pair of games versus the Briercrest Clippers. With their parents in the stands and enthusiastic fans cheering them on, the Voyageurs played some inspired hockey, taking 3 of a possible 4 points from the weekend tilts.
Friday night the Voyageurs came from behind late in the third period to tie the game and force overtime but ended up losing 4-3 in the extra frame.
Saturday afternoon the Voyageurs gave up a goal early but rebounded nicely in the 2nd period to finish off with a 4-1 win against the Clippers. The Voyageurs added 6 new players over the break many of them were key pieces in getting the 3 points over the weekend.
Saturday evening was an invite only dinner at the Voyageur Grill to thank the hockey team parents, volunteers and sponsors. Speeches were made by Randy Benson, Chair of Portage College Board of Governors, Omer Moghrabi, Mayor of Lac La Biche County, Dr. Trent Keough, President & CEO of Portage College, Guy Gervais, Associate Vice President Academic of Portage College and Nate Bedford, Coach of the Voyageurs Men's Hockey team. The dinner also included hockey team players introducing their parents and family members in attendance and those that couldn't make it.
This is the first parent event held for the Voyageurs hockey team and plans are in the works on having them every year. Parents travelled great distances to spend time with their sons, to see the institution and know that their children are in good hands.
"Hockey for the players gets a little more distant as the days go on. Doing something like this for our students is really special," said Coach Bedford.
Gervais added that it's important to us that our student athletes understand they balance both their academic performance as well as their athletic performance. "Athletes here have been and will continue to be high performers," he said.
In the ten year history of Portage College Athletics there have been 175 student athletes in the men's hockey program. This year the players are enrolled in 9 different program areas and finished the first semester with a hockey team grade point average of 2.75 (out of 4).
"It's not just about the athleticism," said Dr. Keough, "We want our athletes to come out of here with technical skills and education that furthers their life long careers. That's what we've been about for 50 years."
Thank you to our hockey team sponsors:
Official Sponsor of Voyageurs Athletics, Lac La Biche County
Britton's Your Independent Grocers
Smiley's
Canalta/Ramada Inn
Boston Pizza
Stitchin' Man
Boom 103.5
Thank you to our volunteers:
Jake Knudslien
Brian Stanton
Blair Norton
Mark Froehler
Brian and Karen Shapka
Loranda Anhassay
Harley Ludington
Luke Muise
Leigh Steele
Matt Dyck
JA Williams students (Eric Sprecker, Timothy Stronach, Evan Stronach)
David Paul
LLB Minor Hockey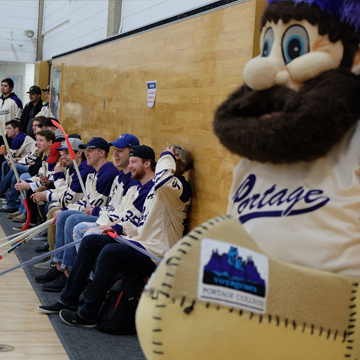 For more photos on the event, check out our Facebook page here.