Pembina Pipeline Corporation boosted its three-year funding support of Portage College's Spirit of Community Partnerships Endowment Fund to a total of over $15,000 after hosting a charity golf tournament for employees and contractors at the Riverbank Golf & RV Park near Wandering River on September 14. Generous participant donations raised $3,400, which was then matched by Pembina for a total of $6,800 this year. Added to the past two years' donations, the golf tournaments have raised over $15,000 for the Portage College endowment fund.
The Spirit of Community Partnerships Endowment fund encourages student involvement and engagement through volunteerism. Award winners are role models who contribute back to their community in meaningful ways, according to selection criteria.
Pembina has a long history of contributing to the communities in which their employees work, live, and play. Its Community Investment program contributes to a range of worthwhile community initiatives, including improved access to education.
"I want to give a big thank you to all the contractors and Pembina staff who participated in the golf tournament this year," says Kevin Mosich, Supervisor, Fort McMurray Area, Pembina Pipeline Corporation. "At Pembina volunteering is a vital part of our culture, and that's why we're excited to donate to the Spirit of Community Partnership Endowment that encourages students to get involved, volunteer, and make a difference within their community."
"We appreciate Pembina's continued effort in assisting the College raise funds that contribute to our Spirit of Community Partnerships Endowment Fund," said Guy Gervais, Vice President Academic at Portage College. "The endowment fund will support scholarships for students who demonstrate a spirit of giving back to their own communities in the same way that Pembina's spirit of giving back supports our Portage College community."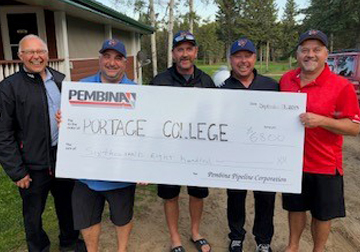 (Left to Right)
Kirk Sutherland - Manager, Athabasca District, Oil Sands and Heavy Oil Business Unit, Pembina
Rick Flumian - Community Relations Manager, Portage College
Larry Christensen - Senior Specialist, Commissioning, Sherwood Park, Pembina
Kevin Mosich - Supervisor, Fort McMurray, Pembina
Guy Gervais - Vice President Academic, Portage College
Media Inquiries:
Jaime Davies, Corporate Communications Manager
780-623-5581 or email