Portage College Board of Governors Chair Randolph Benson announced on April 17, 2019 that Nancy Broadbent has been selected as President and Chief Executive Officer.
On May 23, 2018, the Board of Governors appointed Broadbent as Interim President and CEO while they recruited for the President's position. After a thoughtful and thorough process, the Board of Governors selected Broadbent to continue to lead the College.
"Our search for President cast a wide net and we are grateful to the many accomplished applicants who expressed an interest in being part of our College's future. While the search took us far afield, we are delighted to make this announcement," said Benson. "Ms. Broadbent's education, experience and character make her perfectly suited to be our College's President. On behalf of the Board of Governors, I extend our sincere congratulations to Ms. Broadbent."
Broadbent has worked at Portage College for over 28 years in various roles in Finance, the Registrar's office, and in senior leadership positions including Vice President Student and College Services as well as Executive Vice President Academic. With a degree in Business Commerce from the University of Alberta and a Master's in Business Administration from City University, the Board of Governors believes that Broadbent is well suited to meet the priorities for the College's future direction.
As a mother and grandmother, Broadbent values personal and professional connections. She looks for opportunities to collaborate to create positive results for the College, the communities in the region, and the post-secondary system as a whole.
"I am very pleased to be selected by the Board to serve as Portage's President and CEO," said Broadbent. "The College's continued success is critical to our region and to the students we serve. I am honoured to have the opportunity to continue the voyage into our future."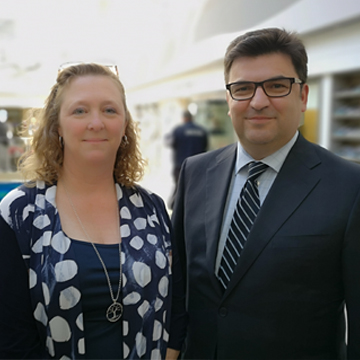 Newly appointed President, Nancy Broadbent with Board of Governors Chair, Randolph Benson
Media Inquiries:
Jaime Davies, Corporate Communications Manager
780-623-5581 or email