An award-winning recruitment tool is paying dividends for Portage College. Produced in collaboration with Glacier, based out of Calgary, the 360 virtual reality video that allows prospective students to tour the College's campuses without having to physically set foot in them is producing great results. The video has proven to be very popular at recruitment events as well as on Veer.tv, where the video already has more than 11,400 views.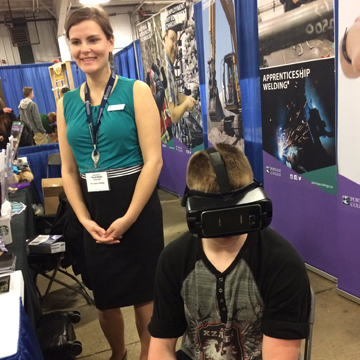 Marina Zayonc, Junior Community Recruiter and a Portage VR guest at Lloydminster Try A Trade.
"We were very honoured to receive the Innovation of the Year Award from the League of Innovation in the Community College for this initiative," said Jaime Davies, Manager of Corporate Communications and the project lead. "It's wonderful to have our efforts recognized but even more special to have the 360 video be embraced by the general public."
Portage College has previously produced 360 degree tours of campus areas for students to see the college from a distance. The college has shifted from using this media as an informational product to a strategic marketing and recruitment tool. Portage was one of the first northern Alberta post-secondary institutions to use high quality 360 virtual reality videos specifically for recruitment.
The recruitment team travels to many remote locations, so the video needed to be viewable without streaming on wifi. Having the video saved directly to the device was imperative. However, this way couldn't provide automatic analytics associated with the video playing directly off the device. The manual tracking of views at each event has revealed promising results. Since launching the recruitment tool on April 5, we've had a total of 190 people sit down in the recruitment booths to watch the 3 minute video. One event had a line-up of over 20 people eager for the experience.
The College usually streams videos on its YouTube channel and discovered that this type of video had more views when posted on a site specifically for 360 virtual reality videos. While the video on YouTube has garnered a typical view count, the video posted on Veer.tv is already over 11,400 views, 46 likes and several new followers. The College plans on posting this video on other dedicated virtual reality sites to further reach prospective students.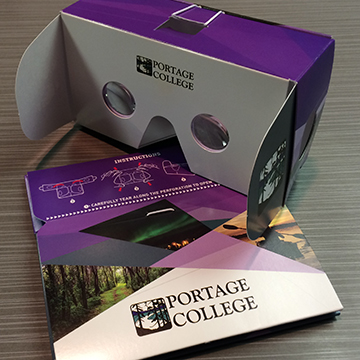 The campaign includes Cardboard Goggles as giveaways. Students can now take the goggles home, play the video on their own device on their own time and have Portage College on their radar.

Deny the ordinary and discover what it's like to be a 360 virtual Voyageur at Portage College! Watch the video here: