Business diploma students at Portage College in Lac La Biche and Cold Lake can complete the third and fourth years of the NAIT Bachelor of Business Administration (BBA) degree without having to move away from their home campuses, starting as early as the Fall 2019-20 academic year.

Representatives from NAIT and Portage College met Tuesday, April 30 at the Portage College Lac La Biche campus to formally announce the details of a Memorandum of Agreement (MOA) recently signed between the two post-secondary institutions. The new MOA between NAIT and Portage College adds new career and learning opportunities for local students.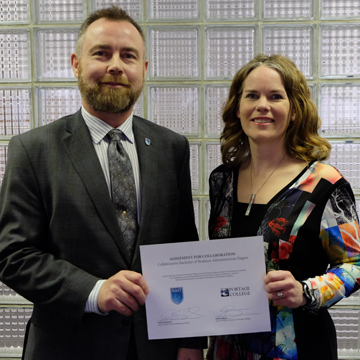 Dennis Sheppard, Dean, JR Shaw School of Business of NAIT with Robin Tizzard, Dean, Faculty of Business of Portage College.
Students who have completed Portage College's two-year Business Administration Diploma program can now be admitted directly to year three of the NAIT Bachelor of Business Administration degree. There will be a rotating combination of year three and year four cohorts that will allow the degree program to be offered continuously at both campus locations, eliminating "wait" times for diploma students in any year.

The BBA degree offers a specialization in Management, but students working toward a specialization in Accounting, Finance, Human Resources or other business careers may also benefit from course pre-requisites or course exemptions earned in the BBA-Management degree program. The BBA is part of a strategic focus by Portage College to collaborate with other post-secondary institutions to offer degree completion opportunities to students in its service region.

Guy Gervais, Vice President Academic, Portage College: "Our business students in Cold Lake and Lac La Biche can now earn a NAIT degree and graduate in their home communities. The convenience and cost savings are a real benefit for students who worry about repaying student loans. The employment statistics after graduation are very positive."

Dr. Sue Fitzsimmons, Vice-President Academic, NAIT: "I am so pleased to see our province's post-secondary institutions working together to serve the needs of Alberta. We are not only proud to offer this degree program to students in the Lac La Biche and Cold Lake areas, but also to have a strong partnership with Portage College that supports the broader initiative of sharing high-quality teaching and curriculum throughout the province."

Dennis Sheppard, Dean, JR Shaw School of Business at NAIT: "Staff of the School of Business at NAIT are incredibly proud of the hands-on and industry engaged education we provide our students. Today we are so excited to also offer Portage College graduates an opportunity to leverage their business diploma education into a baccalaureate degree right here in their own communities."

Current Business Management Diploma student Keally McDermott: "Students here get lots of one-on-one support from the instructors, and we really get to develop great working relationships with them in the two years of the diploma program. Being able to complete the NAIT BBA-Management in my home town really makes the transition to the degree so much easier for me."

To learn more about the Bachelor of Business Administration, or other business programs offered by Portage College, please visit portagecollege.ca or contact Business Program Coordinator Val Lyons at 780-623-5683 or Val.Lyons@portagecollege.ca. At NAIT, program inquiries may be directed to NAIT's Business Information Centre at 780-471-8998 or via email businfo@nait.ca.

Media inquiries:

Jaime Davies
Corporate Communications Manager
Portage College
Box 417, 9531 94 Avenue
Lac La Biche, Alberta T0A 2C0
P: 780-623-6671 C: 780-404-9109 Email

Marta Gold
Senior Media Relations Specialist
Department of Marketing and Communications
NAIT, 10415 Princess Elizabeth Ave. NW
Edmonton, Alberta T5G 0Y5
P: 780-378-6936 C: 780-916-8307 Email