May 4, 2018. On April 21st Portage College Community Social Work (CSW) year two students successfully supported the Lac La Biche Regional Humane Society in fundraising efforts, including a recent Dog-a-Thon that raised just over $1,600.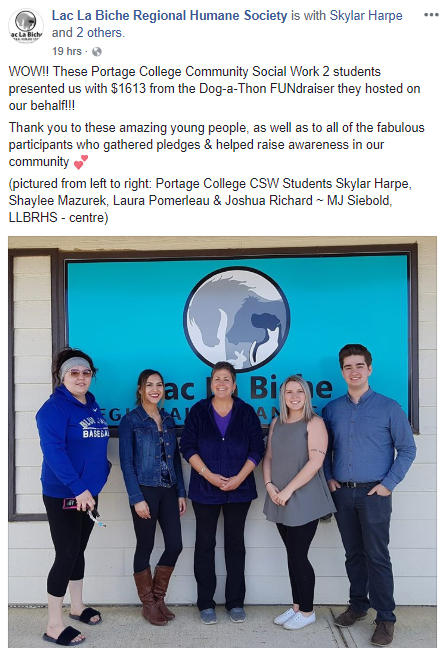 The CSW Program course, Community Development asks groups of students to choose the foundation that they are passionate about supporting. 50% of the students' course mark is based on their fundraising efforts. The larger the class size, the more agencies the course can support. There is usually four to six students in each group and includes planning of the events, what goes into it and how to raise awareness of these agencies.
"Normally these fundraisers are around people based projects but some of the conversations we had were around how animals benefit people's lives. Such as, why should people who have a lesser income not be able to have the companionship and the benefits of having an animal?" Said CSW Instructor, Tracy Orr.
CSW student Laura Pomerleau said "We all had a soft spot for animals. We noticed they were trying to relocate and they were under staffed and they were really in need of volunteers."
The Humane Society Representative said "We have a million and one things to do with our move. With the students doing it this year, it helped. The Humane Society is very honoured and grateful for the thoughts of these wonderful students."
The event had a good turn out with 15 participants and 15 dogs. One family with two kids and two dogs raised almost $500 on their own.
CSW student Joshua Richard said "Our group was hoping to use the money for a reserve fund or emergency supplies to aid those who temporarily cannot access food or supplies. Kind of like if someone doesn't have the money to buy food one week or something. If the agency needs the money for something else, that's up to them."
"The thing about community development is that you really need to make a commitment to ongoing community engagement. Students from two of the four projects were still involved with their fundraising projects after they had completed the school year." Said Mrs. Orr.
"It actually got me out into the community. I've been here for a few years and haven't had the opportunity to go out and talk to the people who live in Lac La Biche," said Miss Pomerleau. "Doing the fundraising and putting out advertisements within the community, gave me the opportunity to talk and get to know people that I didn't know before."
"My students show me the importance to making commitment to community and that is what social work is about. We talk a lot about individual work with people, but it's support of community in those larger supports that are important in social work." Said Mrs. Orr.
"It's really important for everyone to get out into the community, because that's what Community Social Work is all about." Said Miss Pomerleau